Shops
101 Boutique
Established twenty seven years ago, 101 Boutique has one of the best selections of ladies' fashions in south west Scotland.
70 Drumlanrig St, Thornhill, Dumfries, DG3 5LY
Tel : 01848 330740
A Taste of Galloway
Craft Butchers, Event Caterers, Traditional Hog Roast & BBQ Specialists
10am -6pm Wed, Thurs, Fri
Laughtmuirside Farm, Thornhill, DG3 5DH
Tel : 01848 330622
A1 Curtain Design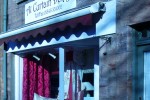 35 Drumlanrig Street, Thornhill, Dumfriesshire, DG3 5LJ
Tel : 01848 331002
Antiques at Zitan
Antiques at Zitan initially started business in August 2005 selling Chinese antiques, furniture and gift items in Thornhill and we are now based in a wonderful old red sandstone church- a magnificent setting for our wonderful stock.
At Antiques at Zitan we pride ourselves on our extensive quality stock, excellent customer service, value for money, and free delivery within UK.
Townhead Street, Thornhill, Dumfries and Galloway, Scotland, DG3 5NW
Tel : 01848 330758
Athena Beauty
129 Drumlanrig St, Thornhill, Dumfries, DG3 5LP
Tel : 01848 332381
Canine Rescue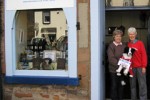 Open 10am – 4pm Monday to Saturday. Thursday 10am – 1pm.
102 Drumlanrig Street, Thornhill
Tel : 07932 884885